Best Innovations in Telecom, Internet, Media and Edutainment (TIME) and SMAC recognized in 6th Aegis GrahamBell Awards 2015 in New Delhi.
India's largest and the only award in field of TIME (Telecom, Internet, Media and Edutainment) and SMAC (Social, Media, Analytics, Cloud) was held on 27th November at NDMC Convention center in New Delhi. The awards honored the best innovations in the field of TIME and SMAC. This award was initiated by Aegis School of Business, Data Science and Telecom & Convergence India, supported by COAI (Cellular Operators Association of India) and Telecom Centres of Excellence (TCOE) India, mUniversity as Powered Partner, Hive Communication as Creative Partner;
Hon'ble Minister Dr. Jitender Singh, Minister of State in the Prime Ministers Office; Ministry of Personnel, Public Grievances and Pensions; Department of Atomic Energy and Department of Space and Union Minister of State (Independent Charge) in the Ministry of Development of North Eastern Region graced the occasion he said "Indian youth should not be a job seeker, they should be a job creator. I am sure this recognition will encourage players to innovate further and make services affordably available to a better part of the population".
In his welcome address, Mr. Rajan S Matthews, Director General, COAI said: "Innovation today in TIME (Telecom, Internet, Media and Edutainment and SMAC (Social, Mobility, Analytics and Cloud) is changing the way we communicate, work, perceive and entertain.
Mr. Hemant Joshi, (Partner, Deloitte) explained about the rigorous and transparent methodology and selection criteria used by Deloitte. He spoke about the decision matrix being used to validate awards on various parameters and evaluation, by prominent jury members, based on the presentation given by the participating companies.
Regarding the initiative, Mr. Bhupesh Daheria, Managing Trustee Aegis Knowledge Trust, CEO Aegis School of Business, School of Data Science, School of Telecommunication and Founder Aegis Graham Bell Award, says "Aegis Graham Bell Awards intends to promote innovation and entrepreneurship in the fields of Telecom, Internet, Media & Edutainment, and provides recognition for path-breaking contributions by the awardees. This initiative is also intended to honor the best brains that can be groomed as leaders and scholars. Having reached the 6th edition of the awards, I have realized that the growth has been exponential as we received 254 nominations from over 126 companies in two jury rounds The 6th Graham Bell Awards has been a success and I would like to congratulate the winners. As we are stepping to the planning of the 7th Graham Bell award, we intend to make it larger with higher number of entries from more companies and also target the international market."
Health Vectors – Analytics and Business Intelligence 2015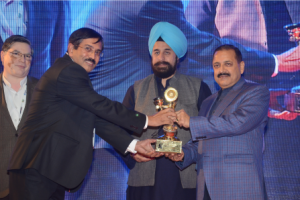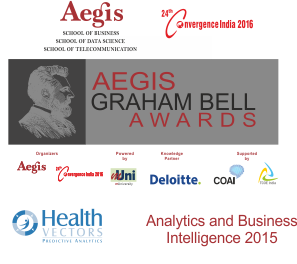 Wouldn't it be nice if you could know your impending health problems, even before symptoms show? Well, now you can via Health Vectors' patented processes and algorithms. Few clinical tests and answer to some questions is all it takes to know how to Live Healthy with Certainty and avoid medicines and chronic diseases – a truly global solution.
Kloutix – Analytics and Business Intelligence 2015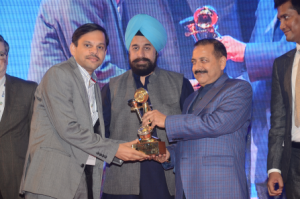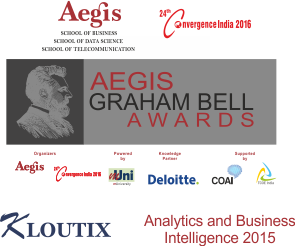 Kloutix has built a cloud based digital analytics platform called "Triton". The platform offers ready to implement predictive analytics solutions across verticals like Financial Services, Insurance, Telecom etc. The solutions can be implemented within 6-8 weeks giving fast business results leveraging the power of predictive analytics. Kloutix aims to disrupt the high capex business analytics markets with their pre-built solutions leveraging latest technologies in – open-source, cloud, and automation
Fracton Technologies – Best Telecom Product 2015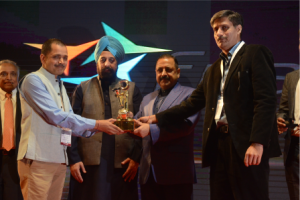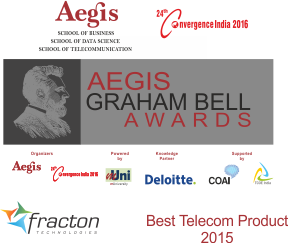 MaxCell brings a fresh and truly effective approach to tackle the network optimization challenges… making Fracton the first company in the country to indigenously develop a product of this kind. It seems to have arrived in time to address the worsening call drop situation in the country.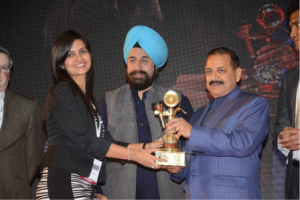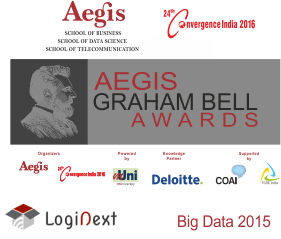 LogiNext's logistics analytics platform is India's largest and fastest growing Real-Time & Big Data platform of its kind. With the backing of Paytm's investment, LogiNext provides real-time visibility, big data analytics and optimization products across different segments starting from First Mile, Long Haul, Last Mile and Reverse Logistics. It focuses on e-commerce, express logistics and retail distribution companies to meet their needs for advanced technology to improve their day-to-day operations, provide superior customer service and ultimately save cost.
Telenor – The Fortune at the Bottom of the Pyramid 2015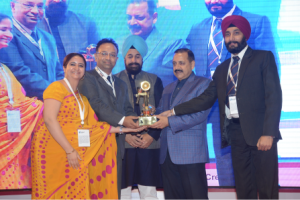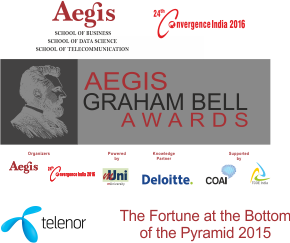 Telenor's Project Sampark has successfully addressed the socio-economic issues that have been barriers to the women's access to the use of mobile phones. Calling it a project 'For the Women, with the women and by the women, Sampark has bridged and showcased a solution to bridge the mobile gender gap in the country
SPEEDON NETWORK – Connected Life 2015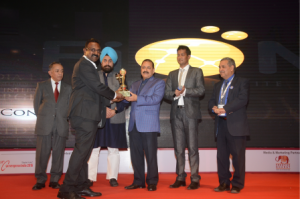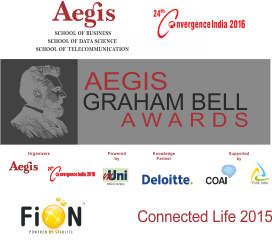 Speedon Networks Ltd. for their "Neutral Network Solution deployed in Hiranandani Upscale Chennai" connecting several users on Ready Platform capable of Supporting futuristic technology and delivering multiple services like Hi-speed Internet & telephony, Video, VAS, Intercom, CCTV, Video Door phone, Home surveillance, Boom Barriers etc. from multiple Operators through single network
RailTel Corporation of India – Digital India 2015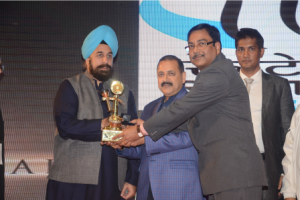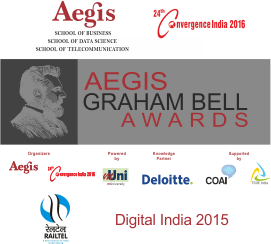 HP Enterprise – Digital India 2015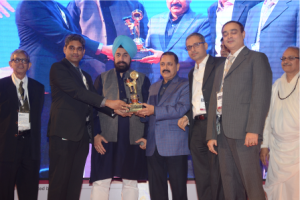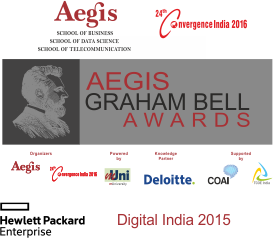 Hewlett Packard eHealth Center Solution enables improved access & effectiveness of primary healthcare. The solution designed & developed in India is simple, easy to deploy and rapidly scalable. It is built on a framework that leverages concurrent technologies – the complete SMAC stack to provide the best of healthcare infrastructure at affordable costs to citizens
Panchsheel Research – Green Telecom 2015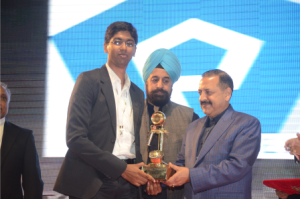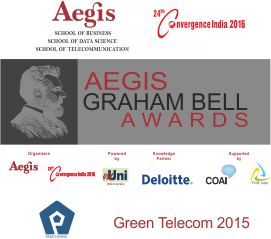 Panchsheel's BTS site energy monitoring solution solves a long standing challenge faced by industry for tamper-proof monitoring of diesel generator usage. Based on an entirely new technology developed at IIT Bombay the solution enables site KPI's monitoring, predictive maintenance and efficient Capex planning through a black box approach. The solution has been validated by several leading cellular operators and infrastructure providers with major rollouts ongoing in 11 circles.
Blue Town – Rural Broadband Access Innovation 2015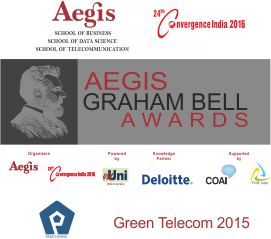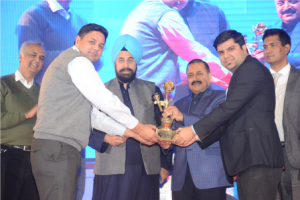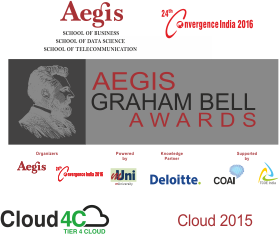 Cloud4C is World's 1st Tier 4 Public cloud with 4 Copies and Built-in Disaster Recovery (DR). It has been built indigenously to address the needs of large enterprises and start-ups alike. It's a 'Make in India' Cloud offering rivalling the best services provider across the Globe. Cloud4C Public Cloud offers both Infrastructure as a Service (IaaS) as well as Software as a Service (SaaS) among others.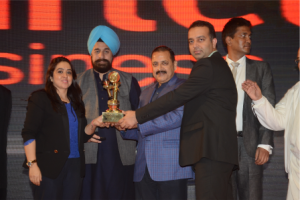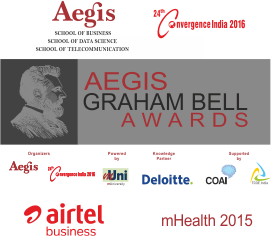 Airtel has automated the Mother and Child Tracking System process for Mandla distt in MP . The solution comprised of an application which is accessed on a tablet by the rural Health workers for all health related activities and actions and reported real time from the field to Public health centers. This automation has befitted the expecting mothers, health workers and the Public health centers, in terms of medical support, reporting and giving medical support.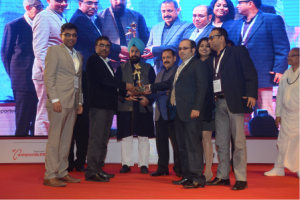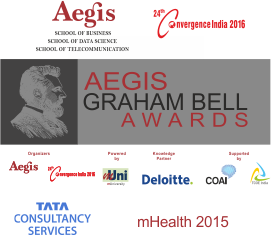 An affordable connected wellness and healthcare solution for remote health monitoring of subjects. Health parameters are sensed, analyzed and reported using novel technologies on cloud-connected mobile or wearable devices.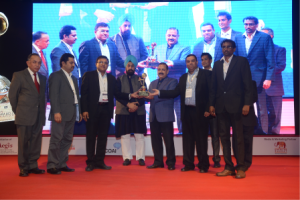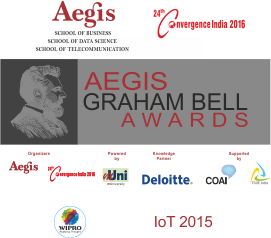 The patent pending UDP/IoT(tm) or Universal Data Parser for IoT, was created to fill a gap in our many IoT development and systems integration projects. This gap was the need for fast, well documented, flexible adaptation of data streams from a wide range of end devices to a wide range of IoT platforms and data stores. You even might call this the 'Rosetta Stone for IoT'. With this toolset, we have had a non-IT practitioner quickly define, translate, parse and document the inclusion of new devices into an IoT ecosystem in hours vs weeks of development and testing.
Vodafone India Limited – M2M 2015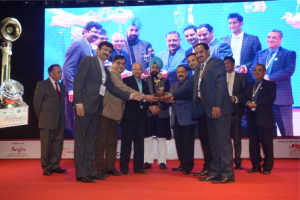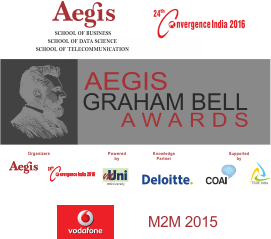 Vodafone Business Services, the enterprise arm of Vodafone India in joint collaboration with TERI and Nexleaf Analytics has developed a Machine to Machine (M2M) solution that allows scientists to remotely collect data from Nexleaf's StoveTrace sensor deployed in clean cooking gas stoves in Uttar Pradesh. This is done through Vodafone's data network with the SIMs managed through a central service platform. These stoves run on clean cooking energy and the solution helps in tracking their utilization pattern, providing data points linking climate change to biomass and other clean energy used as domestic cooking fuel.
Amdocs – Managed Services 2015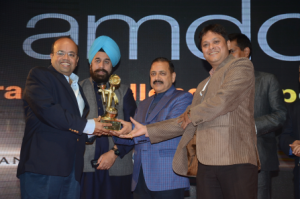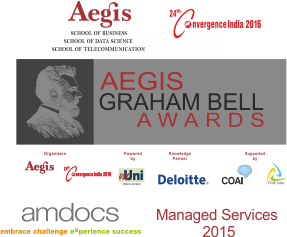 Amdocs Order-to-Activation managed service is unique service provides a holistic, automated, analytics-based approach for assessing, managing and proactively optimizing the entire Order-to-Activation process for service providers and enables early identification and remediation of order issues. It is based on innovative, patented technology, methodologies and processes, and completely reengineers this critical process without requiring change to the service provider's IT systems.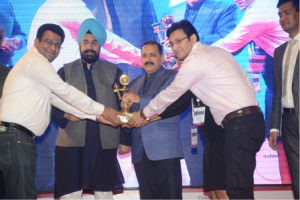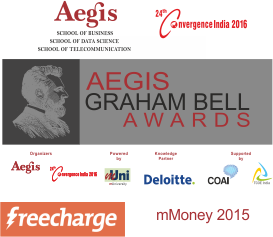 FreeCharge is India's leading digital payment platforms, where users can recharge mobile phones, data cards, DTH, landline and pay utility bills. FreeCharge's endeavour is to bring-in a change in habit of users and help them migrate from offline transaction to digital transaction experience. With the launch of FreeCharge wallet, the company aims to make boring and mundane transactions more safe, secure, seamless and rewarding.
mCarbon Tech Innovation Pvt. Ltd – mMoney 2015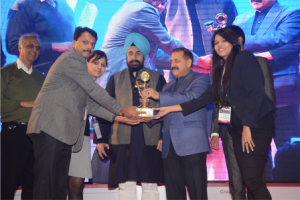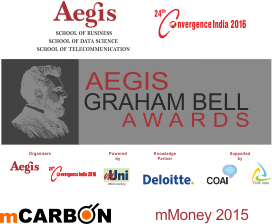 Airtime Advance and credit is mCarbon's key value proposition in the usage and revenue category. Deployed across leading Telco's in India and the region, the product has led to a 6 to 8 % increase in ARPU on an overall level. As leaders, the leading solution innovator provides the highest volume of such small advances worldwide wherein they touch more than 300 million subscribers every month.
Axis Bank Pvt Ltd – Social Pay 2105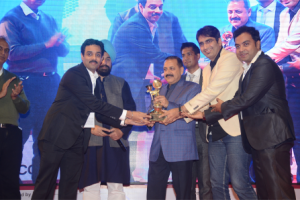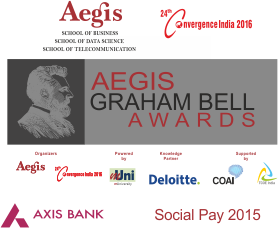 Ping Pay by Axis Bank, is India's only Multi Social Payment App, which allows you to send and ask money/recharge instantly across Social channels like What's app, Facebook and Twitter.
Dimension NXG – Low Cost Technology 2015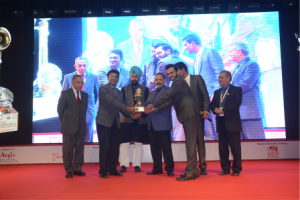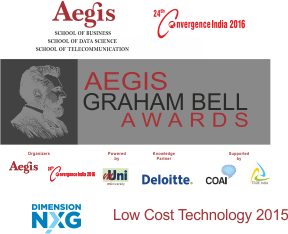 Starting from setting up one of Europe's and Asia's best 3D Scanning system, with 45 DSLR cameras, they have decreased it down to just 3 DSLR cameras, still giving the same quality output, with their technological innovation. They are democratizing 3D scanning.
Gramener – Analytics and Business Intelligence 2015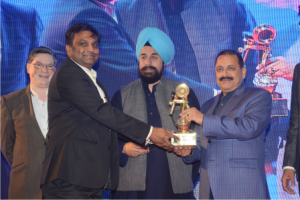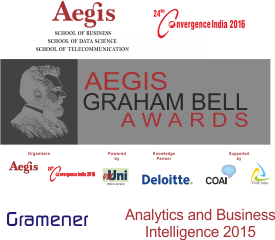 Gramener is a data visualization and analytics company – Founded in 2010 by Ex-IBM and BCG leaders, addresses essential need of making the "consumption" of data – simpler, rapid & coherent across organisations with their innovative Data Visualization Product.
Mahindra Comviva – mCommerce 2015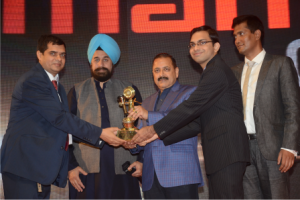 Mahindra Comviva's mobiquity® Money makes convenient, secure and rapid mobile money based merchant payments a reality in emerging markets. Its open-loop merchant payment solution in partnership with MasterCard facilitates POS payments globally at more than 28 million MasterCard merchants in 210 countries. Its first-of-its-kind NFC payment solution facilitates seamless contactless payments for mobile money users bringing payments experience in emerging countries at par with the developed markets.
Mahindra Comviva – mMoney 2015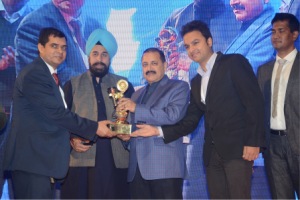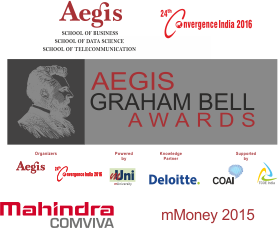 Mahindra Comviva's mobiquity® Money mConnect solution drives interoperability between competing mobile money services. The service simplifies off-net money transfers by allowing user of different mobile money services to directly and seamlessly transfer money to each other. Mahindra Comviva enabled Africa's first domestic interoperable mobile financial service between Airtel Money and Tigo Pesa in Tanzania
Infozech Software – Telecom Infrastructure 2015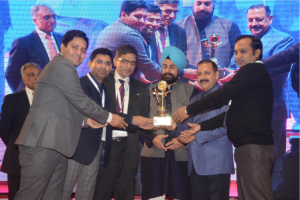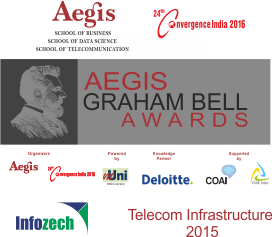 InfoZech's iTower uses applied analytics to enforce discipline of action to improve actionability for people, asset, energy leading to optimized efficiency.
Huawei – Telecom Infrastructure 2015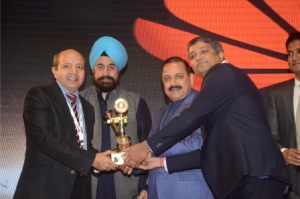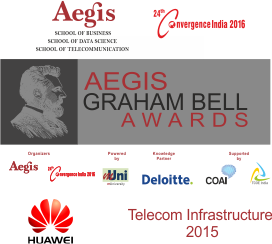 LampSite is an innovative in-building solution that unveils new market opportunities not only by improving coverage & capacity, but also enabling operators to participate in an open multi-win business model.
Tech Mahindra – Smart City solution 2015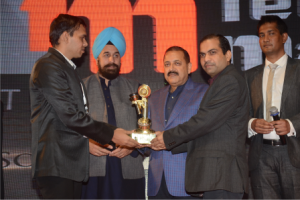 5D Imaging is one of its kind real time image processing suite which can recognize a face in real time even in a crowd. It works over a normal 2D cameras but creates 3D avatar of a person before applying face matching algorithms which enhances the efficiency to almost 99%. The technology has not only revolutionized the security and surveillance areas but also helps to automate various day to day industrial processes.
Persistent Systems Ltd. – Innovation in LBS 2015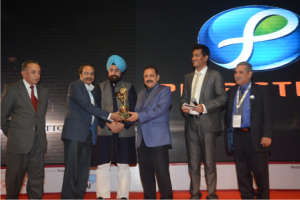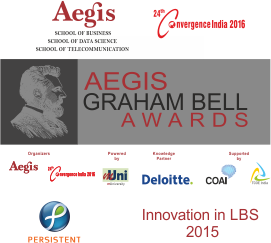 The E100 Solution developed by Pune-headquartered Persistent Systems is a Location-based Emergency Response System that determines the location of a distressed caller to enable responding agencies to provide timely and efficient assistance. This solution includes a cost effective Smart Computer Aided Dispatch system that can be setup in any Control Room within a few hours to facilitate coordination across various emergency responders. The solution works on all phones without the need for a mobile Application, GPS or Data connectivity, thereby addressing the public safety needs of the entire population of India.
Kochar Tech – Mobile Apps for Enterprise 2015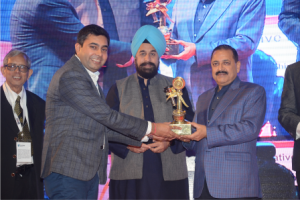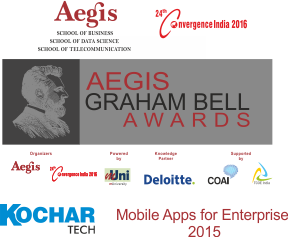 KocharTech's "GizmoDoctor" is one of its kind self-diagnostic tool for Android devices. The tool enhances the customer's experience by managing the device CPU, RAM & battery utilization, which ultimately results in optimizing the device performance
One Click Technologies Pvt. Ltd. – Service Innovation 2015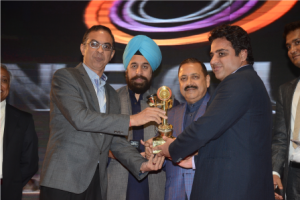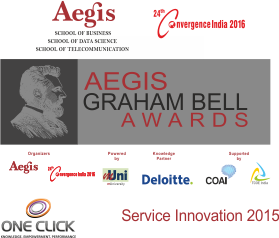 One Click has developed an innovative software product which has revolutionised the DTH Customer Support Experience and in fact helped their customer to consider Call Centres as Revenue Generating centres instead of Cost Centres
Aircel – Breaking The Tech Tradition 2015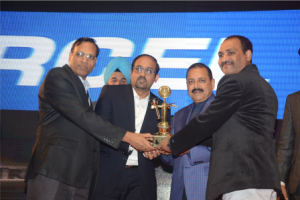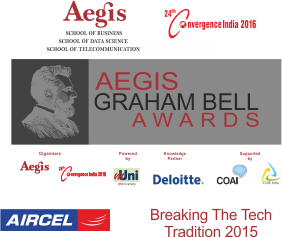 High "Service availability" and Low Cost of Ownership are two Key KPIs on the perpetual radar of the Engineering team. Through their Out of the Box solution "Zero premium assurance" Team Aircel has successfully achieved both the KPIs.