Business Vision:
Provide big data analytics in a software-as-a-service, self-service model and make it pervasive across all size of organizations.
Problem Statement
Analytics as a discipline has been proven very effective to address some of the most pressing business challenges – customer growth, fraud detection, pricing optimization, reduce churn etc. With the explosion of Big Data, this analytics has taking a completely new dimension to understand and grow customer engagements.
However analytics growth has been largely restricted due to various factors like

High investments required in H/W, Software resources
Availability and expensive data scientists
Long gestation periods of implementation
Lack of ability to do quick pilots and thus produce business ROI for larger implementation
All the above factors lead to abandonment or disillusionment of the business with the outcome vis-à-vis the costs (time, labour, dollars)
Kloutix Innovation
Kloutix analytical solutions incorporate domain knowledge, automation and latest open source technologies to provide quick business results.
Analytical automation

Kloutix's approach is to hand the power of analytics to the business user thereby increasing the usage and the business value
Kloutix does this through:

Pre-built predictive analytical applications
Pre-built statistical models
Self-service interface where a business user can build and modify models without complexities of statistical modelling.
Real-time analytics: Kloutix had built a library of "Interaction Signals" that provide outcome in real-time basis supplementing the analytical models.
Business functionality delivered starting in 2-3 weeks compared for 3-4 months earlier, reducing deployment and maintenance time by 60-90%.
Domain specific solutions having pre-built data models, statistical models enabling fast implementation and incorporating industry best practices.
Open Source Leverage: Kloutix applications leverage open source technologies like "R", Hadoop, Spark, MySQL etc. eliminating the need to deploy capex in expensive software or hardware.
Cloud based delivery platform, no procurement lead times and provides pay-as-you go option. The applications can also be hosted on-premise.
Kloutix Solution
Kloutix is building a purpose built digital analytics platform TRITON which has domain specific analytics applications.
TRITON: Digital Analytics Platform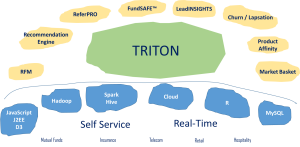 The platform has following features:
Business Applications: TRITON digital platform has various self-service business analytical applications. Some of the kep applications are as below:
FundSAFE™ : FundSAFE is a predictive analytics platform for mutual fund industry and wealth management. It has various statistical models like Recommendation engine, segmentation, clustering, churn etc. both for customers and distributors.
LeadINSIGHTS: This application provided end-to-end analytics for lead management across digital and internal channels. The three components of this application are
ReferPRO: RefroPRO enhances the referall business by providing analytics driven answers on the best customers to approach for referral and best time to contact them.
LeadSCORE: LeadSCORE provides a score to each lead obtained from across the channels from digital to call enter. This increased the lead conversion and enables optimum spend of marketing dollars across channels.
LoyaltyAnalytics: It has been demonstrated that loyal customers provides 6X profits than the new ones. Loyalty analytics provides analytics for planning the right campaigns for loyal customers and grow business.
Churn Analytics: In the world of little product differentiation and low switching costs, reducing customer churn ca be very daunting. Kloutix has built churn models across industries like financial services, insurance, telecom etc. that helps reduce customer churn effectively.
The other applications build are related to entire customer lifecycle starting from identification, on-boarding, grow and maintain across industries like Financial Services, Insurance, Telecom and Hospitality.
Pre-built Statistical Models
As part of the platform, Kloutix has developed a library of pre-built statistical models across industries. These models
Comprehensive data models:
All applications are built on comprehensive data models that leverages the best practices in the industry. These data model combine both internal and digital data to provide comprehensive analytics.
Purpose Built Applications
Depending on the business requirements the architecture of application varies.
A real time analytics application leverages Big Data technologies like Hadoop, Spark, Hive etc.
If the analytics involve large amount of unstructured data, Hadoop is leveraged
For relational data with low volumes, MySQL or any other relational database available with the customer is leveraged.
Flexible Deployment Option
All applications can be deployed both in cloud and on premise. Customization can be done to leverage existing investments in infrastructure.
Pay-as-you go pricing
The platform is built for pay-as-you go pricing based on the components chosen. This ensures any company can start leveraging analytics as a fraction of cost to the traditional deployment options.
Summary
If analytics is made as intuitive as an office productivity suite or an ERP application, how would it benefit the productivity and the revenue potential of the organisations?
A sales manager starts his day by getting a list of customers he needs to contact today. Not start by wondering whom to contact, what to do? He will know exactly which products his customers most likely to buy. Which distributors he needs attention today.
Essentially one has to evolve analytics as a productivity tool and not view it as a crystal-ball to discover the future. This can happen when analytics is used by every revenue impacting employee/stake holder. For this to happen two conditions should be met – analytics must be actionable and intuitive. And from an IT perspective analytics should integrate seamlessly with the enterprise IT standards and be cost-effective for such an organisation-wide deployment. Kloutix's provides pre-built statistical models and analytical applications taking away the labour and special skills required. And by adopting enterprise-class open-source tools that inter-operate with industry standards, Kloutix is able to provide it's applications in a cost-effective manner. Thus delivering on its vision of making analytics pervasive.